Made to order Replacement Doors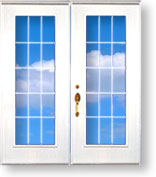 We offer the finest replacement vinyl windows, insulated steel doors, patio doors, entrance doors, storm doors and porch enclosures - all at competitive prices.
Vinyl windows are the most popular windows in Canada due to their durability; vynil windows never chip, peel or rust. These prefered replacement windows are corrosion resistant, and offer enhanced strength and energy performance, making them an efficient insulator
Our custom made quality windows are economically priced to compete with other window framing and significantly outperform, and are manufactured locally at out Toronto window factory
All Primary Seal Replacement Windows and Doors area backed by an industry leading lifetime transferable warranty.
We offer a full line up of custom doors for your home. We have a variety of styles available along with a large selection of decorative glass inserts, side lights and more.
Steel Doors and Entrance Doors

Kiln-dried Primed, Finger-jointed Frame - To prevent warping
Hot Dipped Galvanized Steel with Factory Applied Primer - Provides optimum resistance to rust & corrosion
Door Injected with Bonded Polyurethane Foam-Provides outstanding insulation & stability leaving no air spaces
Solid Wood Lock Block-Provides reinforcement & added security at the critical lock area
Sill Gasket-Eliminates water seepage between sill frame
Aluminum & Vinyl Thermally Broken-Stops frost transfer & buildup
Leak-proof Adjustable Bottom Sweep-Provides a postive sealagainst air & water infiltration
Continuous Wood Stiles & Rail(Full 1-1/4")-Provides consistent thermal break between outer & inner surfaces to eliminate frost & condensation
Premium Magnetic Weatherstripping-Ensures a tight seal to minimize heat loss



Systems Garden Doors

Preservative treated pine frames
Magnetic weatherstripy
Optional vinyl clad frames are permanently bonded
Polyurethane foam core
Door faces are hot-dipped galvanized steel
Standard doors are Primary d steel
Hinged at centre post
Solid wood lock block
Maintenance free



Patio-doors


We understand you want your new sliding patio door to let in lots of natural light without giving up security. Primary Seal Sliding Patio Doors are designed to bring you not only a great view of beautiful sunshine, but also peace of mind. Primary Seal Windows sliding patio doors provide beauty, comfort, long-lasting strength and energy savings.

Exterior sliding screen
Maintenance free extruded vinyl
Left or right operating
Prefinished doors
Maintenance free
Triple weather seals
No wood members to warp, split or rot
Durable recessed laminated steel lock with life time replacement guarantee
Quality hardwood handle
Optional decorative grills
Optional Low "E" or Low "E" with Argon gas thermal units



Storm Doors

Optional 1-1/2" or 2" frame thickness
Self lubricating hinges
Tough aluminum screen mesh
Durable baked enamel finishes
Hardware & installation fasteners included
Lever or pull handles available
French door styling
Custom sizes